Legal New York State Medical Marijuana Certification Online Fast!
In pain and looking for an alternative to pills? Just reach for your smartphone and get your legal New York medical marijuana certification online in minutes.
NuggMD Is the Shortcut to Getting Your New York State Medical Marijuana Card
While the New York State Medical Marijuana Program is making it increasingly difficult to find a medical marijuana doctor and obtain a street-legal medical marijuana card or certificate, NuggMD has made the whole process easy-squeezy-lemon-breezy. You no longer have to google
"marijuana evaluations near me"
or
"24 hour dispensaries near me"
and come up slim.
All you need is a valid government issued ID with a New York address, proof that you suffer from one of cannabis' qualifying medical ailments, and any device that connects you to NuggMD.com.
It's not a pipe dream anymore. You can get a
New York medical marijuana card
online from the privacy of your own home via your smartphone, tablet, PC or laptop in minutes.
Timing Is Everything
In cannabis, as in comedy, timing is everything.
New York medical marijuana proponents and potential patients are experiencing a harmonic convergence of sorts. Within the last two years, the following changes have paved the way to easy mmj access in New York State:
The State of New York passed Senate Bill 2405, allowing health providers to deliver services via "electronic information and communication technologies."



The passage of Assembly Bill 6357 permits medical marijuana doctors to conduct evaluations via the internet and prescribe cannabis products to those who need them.



NuggMD has expanded into New York State, just in time to simplify the medical marijuana application and registration process. NuggMD is the world's oldest and most reliable telemedicine portal for medical marijuana certification. Their foothold in the Empire State is a blessing for all cannabis patients.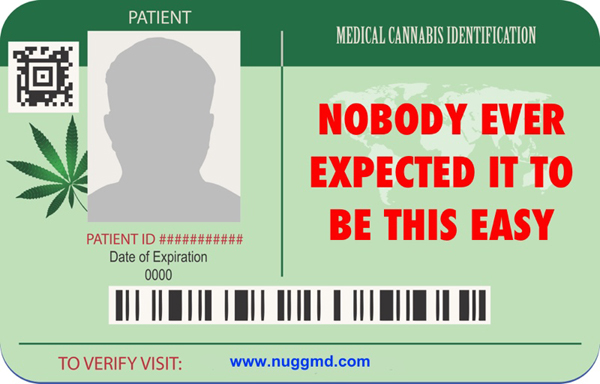 Get Started Tonight!
Attempting to find one of the few licensed New York medical marijuana doctors becomes a full time job. When you do, having an in-person examination and evaluation at a doctor's office consists of sitting in poorly ventilated, crowded waiting rooms--with the possibility of bumping into a distant relative you don't get along with.
Skip this hassle and go directly to NuggMD from your computer, laptop, tablet or smartphone then fill out a basic application with some general info about yourself and .
Next, you'll have a telemedicine evaluation (like a Skype conversation) with a licensed MD lasting anywhere from 5 minutes to 20 minutes, depending on the questions you have.
Finally, you'll get your medical marijuana certification by mail in a few days. NuggMD's website will also help you find nearby dispensaries and the latest info on the state's rapidly changing medical marijuana program, products, the future of marijuana delivery and, hopefully, buying recreational marijuana!
"Sign up now, and get access to the wide range of cannabis products on the market – flowers, edibles,
vape cartridges
, tinctures, oils, rubs, and more!"
Comments
MUST READ NEWS
VIDEOS
---